Posted on
By Sonya Spaulding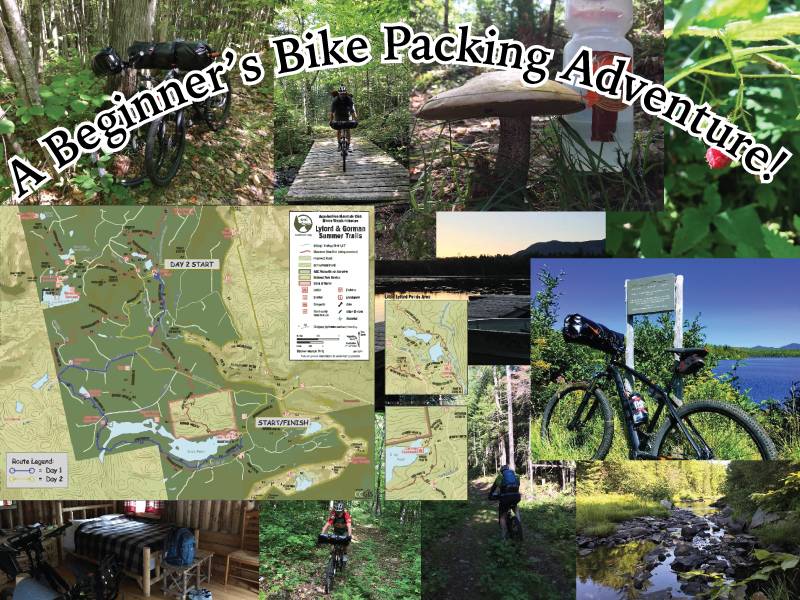 Kevin and Sonya took their first bike packing adventure together in Moosehead Lake (Greenville) Maine. As customers with Vermont Bicycle Shop they share their unique experience in buying equipment and using that equipment and advice on their first trip together through the wilds of Maine on bicycle!
by Sonya and Kevin Spaulding
Normally I would choose to hike over ride but a summer of inactivity, due to plantar fasciitis, pushed me to try bike packing. The benefit was two-fold, I would get a chance to get out in the woods while at the same time appease my husband who had been cycling all summer.

We booked our cabins at the AMC Gorman Chairback and AMC Little Lyford Camps in Maine's Moosehead Lake region. This seemed like ideal as it was our first bike-packing trip and I wanted to start small. It would allow us to figure out how much to pack and how far we could ride, without having to carry food and shelter.

Here are some Dos and Don'ts we would like to share from our first adventure!
 Seek out the advice of those that have experience. Darren at Vermont Bicycle Shop provided great information and insight regarding packs and bicycle set-up.

 Set-up your bike(s) with the packs that you are going to use and test prior to your first trip. A pre-trip shakedown helped determine pack placement and loading.

 Choose your route carefully and research the trails/roads that you are going to travel. 12 miles on a dirt road is not that far but 12 miles of dirt roads, single track, and bushwhacking is something total different.

 Be prepared. This goes for attire, food, water, and tools/supplies. While we did not have any mechanical issues, it is easy to see where a tire puncture or an issue with a derailleur could have been a big headache.
Don't:
 Get hung up on what type of bike you have and whether it is appropriate for bike-packing. I rode a new hardtail 27.5" mountain bike and my husband rode a 5-year old full suspension 26" mountain bike.

 Underestimate how much a little extra weight on your handlebars will change how your bike handles. Our next trip out will include seat packs for the heavier items that we need which will allow us to pack the lighter items up front and on our backs.

 Pack too much. As the old saying goes, "Bring everything you need and nothing you don't." We had clothes we did not wear and items that we did not use which were noted and will not make it out on the next trip.

Gear

Bikes – Orbea MX40 – 27.5" & Specialized Camber Comp – 26"
Bicycle Cargo– Salsa EXP Anything Cradle and Dry Bag, Salsa Anything Cage HD Packs – 20L standard day back packs
Day 1 – Arrival at Gorman Chairback Lodge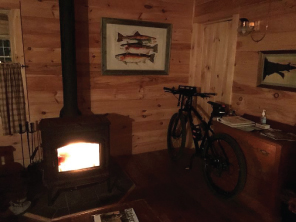 Home our first night.
We arrived late at Gorman but the staff was accommodating and helpful. We had a filling and delicious dinner before checking into our cabin. We had somehow been booked in a private cabin that could sleep 6 people and a private bath-what a luxury! We started a small fire to take the chill out of the air before bed.
Day 2 –Gorman Chairback to Little Lyford Pond
The first morning was perfect, with a chill in the air, and sun in the sky. We started the day with a hearty breakfast, finished last minute adjustments, and were off to bike the 12 miles to Little Lyford! The first trail, Long Pond Trail, was more of an old logging road, and was a good start to the adventure. We rode through wooded trails and open meadows, and at times, had to ride through overgrown grass and raspberry bushes. We passed some beautiful spots on Long Pond and stopped for lunch just before catching the Hedgehog Gate Trail.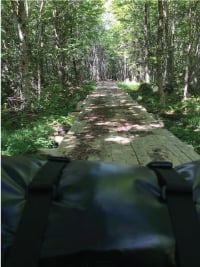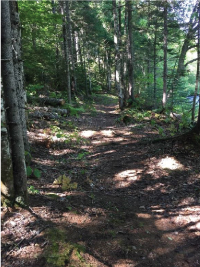 After lunch, we were back on the bikes and found a lot of bridgework on the Hedgehog Gate Trail. It was easy to ride, but ended much too soon! The next portion of the trail was not rideable, and since I am not able to hike for long periods, we were forced to backtrack to the road. We had to get permission from the gatekeeper at the Hedgehog Gate to ride on the Katahdin Iron Works (KI) Road, as bikes are not allowed. We felt lucky to be allowed through, as multiple ATVs and dirt bikes were turned away. We rode until we reached the parking lot for the Head of the Gulf Trail, and made our way to the Lodge-to- Lodge Trail.
The Lodge-to- Lodge Trail was beautiful, rambling alongside the West Branch Pleasant River. However, it was basically a hiking trail, with lots of rocks and roots, which made it difficult for this inexperienced rider. Kevin enjoyed the technical aspects of the trail, while I walked my bike.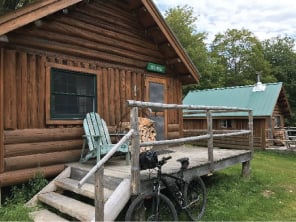 We arrived at Little Lyford and checked into our cabin. We had a delicious dinner and met other mountain bikers, and shared stories from the trail. We enjoyed the sunset at Little Lyford and went to bed early, as it had been a long day of biking!
Day 3 –Little Lyford Pond back to Gorman Chairback
Sunday was a cloudy day, and a bit cool. We had breakfast (the best blueberry pancakes and sausage!) and planned our route back. We had originally intended to take Lodge-to-Lodge back to Gorman, but after my experience with it on Saturday, we decided to try the other end of Hedgehog Gate Trail to see if that was better.
With the threat of rain hovering overhead we packed up our bikes and headed out to the trail. This end of the Hedgehog Gate Trail proved to be far easier to ride and we followed that to an unimproved road to the Upper Valley Road, to avoid having to backtrack again. We rode the rest of the trip on the roads (Upper Valley, KI, Chairback Mountain Rd) to our truck. The roads did not have a lot of traffic and were gravel, but not as scenic as the trails we had been on.
All in all, a fun weekend! We learned a lot about how and what to pack, what types of trails and roads we like best, and what to look for and ask about when setting out on a bike-packing weekend.
Helpful Links
Vermont Bicycle Shop - http://www.vermontbicycleshop.com/
AMC Gorman Chairback Lodge & Cabins- http://www.outdoors.org/lodging- camping/Lodges/gorman/index.cfm
AMC Little Lyford Lodge & Cabins - http://www.outdoors.org/lodging-camping/Lodges/lyford/index.cfm


Maps of the routes used:
The Day 1 route is labelled in green and the Day 2 route is labelled in blue.